Tennessee Outdoor Furniture - Quality Cedar Products
Hand Crafted Adirondack and Garden Furniture in Western Red Cedar

Click Image to Enlarge
Our top-selling Adirondack Chair is designed with a sculpted seat and curved back slats for maximum comfort! Every piece of furniture is made entirely out of 5/4 Western Red Cedar, which after smoothing and sanding leaves the board a full 1" thick for a strong, rigid, and beautiful piece that will last for years.

Every joint is secured using waterproof all-weather construction adhesive and 1 3/4" stainless steel screws to keep the chair tight. This process allows our products to withstand temperature extremes between -40 to 120 degree temperature without any joint or adhesion failure.

It bears repeating that we use Western Red Cedar for all our furniture at it is simply the finest outdoor building material available!
Western Red Cedar is light, the resin is poisonous to insects, and has an extremely high thermal factor. Western Red Cedar has 80% of the tensile strength of Oak, and is pound-for-pound stronger than steel!

Western Red Cedar is also an appearance-grade wood. When properly coated with "Ready Seal" stain, or Tung Oil, the grains stand out, providing high aesthetic appeal, and and long-lasting durability - even under severe conditions.

It is not uncommon for a properly finished Adirondack Chair to last 100 years, there are many in existence to prove it. Naturally, these furniture pieces often become family heirlooms, and are handed down generations after generation, becoming sought after prizes for collectors.

Click Image to Enlarge

Click Image to Enlarge
Whenever you invest in one of our pieces, rest assured that you are getting the finest craftsmanship available. That fact is reflected in our warranty, which is very simple.

Our Pledge: If for any reason your Adirondack Furniture does not live up to your expectations, let us know, and we will make it right.
Administer This Page
This site is designed and maintained by the team at Sand Dollar Digital Design, Inc. ©March 2006
Report abuses and other comments about this site to Sand Dollar Digital Design, Inc.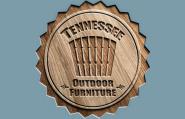 Our Mission Statement: To use the abilities and talent given to us by God to produce a quality product with exceptional service.
The Adirondack Chair goes hand in hand with outdoor leisure and relaxation. Furniture made from Western Red Cedar is synonymous with durability and lasting beauty. Our master craftsmen produce a lasting and elegant product that will truly become an heirloom to pass to the next generation.
Tennessee Outdoor Furniture - Quality Cedar Products
4932 Mt Zion Rd
Springfield, TN 37172
Call Us At:
Like us on Facebook
(615) 604-5714