Tennessee Outdoor Furniture - Quality Cedar Products
WHERE WE STRIVE TO EXCEED YOUR EXPECTATIONS
YOUR COMPLETE AND FULL SATISFACTION IS OUR GUARANTEE!

WE WILL DO EVERYTHING IN OUR POWER TO GUARANTEE YOUR SATISFACTION.
IF WE CAN'T, THEN YOU DON'T PAY. IT'S THAT SIMPLE.

AT TENNESSEE OUTDOOR FURNITURE YOUR OPINION OF US IS MORE IMPORTANT THAN A FURNITURE SALE.
WE STAND BEHIND EVERY SINGLE ORDER AND ON EVERY SINGLE PRODUCT.

IF YOU'RE NOT COMPLETELY DELIGHTED WITH YOUR ENTIRE EXPERIENCE, YOU LET ME KNOW!
I'LL MAKE IT RIGHT!!!
Email Tom Now


Administer This Page
This site is designed and maintained by the team at Sand Dollar Digital Design, Inc. ©March 2006
Report abuses and other comments about this site to Sand Dollar Digital Design, Inc.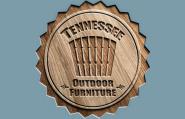 Our Mission Statement: To use the abilities and talent given to us by God to produce a quality product with exceptional service.
The Adirondack Chair goes hand in hand with outdoor leisure and relaxation. Furniture made from Western Red Cedar is synonymous with durability and lasting beauty. Our master craftsmen produce a lasting and elegant product that will truly become an heirloom to pass to the next generation.
Tennessee Outdoor Furniture - Quality Cedar Products
4932 Mt Zion Rd
Springfield, TN 37172
Call Us At:
Like us on Facebook
(615) 604-5714