Tennessee Outdoor Furniture - Quality Cedar Products
About Our Company and the People Who Build Your Furniture
Hi Folks!
Tom here in the workshop in Springfield, TN, where every piece of furniture is hand crafted with extra attention given to every detail.

Only the highest standard of quality and workmanship is used in crafting each piece of furniture with the final check being 100% satisfaction from you... our customer.
Everyone here has a personal commitment to offer only the highest quality of craftsmanship in everything we do.

There's no deposit for an order, just an email specifying what you want. Payment is gladly accepted at delivery if you are completely satisfied with the furniture.

For orders outside our eight-county delivery area, (Robertson, Montgomery, Cheatham, Willamson, Davidson, Wilson, Rutherford, and Sumner) we will mail your furniture partially assembled with instructions for completing the assembly and all joints pre-drilled. We'll send you all the stainless steel hardware you'll need to complete the assembly, a bottle of weatherproof glue, detailed instructions with pictures outlining clearly how to finish the assembly, and my cell phone number so you can call me if you get stuck or have a question.

Browse the website and drop me a note if you have any questions or comments.
Whether for yourself or for a gift to those special people in your personal or business world, our furniture will provide a lasting legacy of elegance and comfort.

We can customize any piece of furniture to match any physique or to mark a special occasion or to just personalize a special gift. Just let us know what you want and we'll jump around like a one-legged hat dancer to do our best to make it extra special just for you!

Thank you for visiting the site. Tell your friends about us too.

Tennessee Outdoor Furniture - Quality Cedar Furniture made for a lifetime.
Administer This Page
This site is designed and maintained by the team at Sand Dollar Digital Design, Inc. ©March 2006
Report abuses and other comments about this site to Sand Dollar Digital Design, Inc.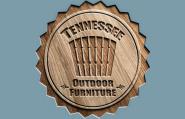 Our Mission Statement: To use the abilities and talent given to us by God to produce a quality product with exceptional service.
The Adirondack Chair goes hand in hand with outdoor leisure and relaxation. Furniture made from Western Red Cedar is synonymous with durability and lasting beauty. Our master craftsmen produce a lasting and elegant product that will truly become an heirloom to pass to the next generation.
Tennessee Outdoor Furniture - Quality Cedar Products
4932 Mt Zion Rd
Springfield, TN 37172
Call Us At:
Like us on Facebook
(615) 604-5714